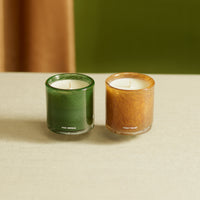 Candle Set of 2, 150g - Tipsy Toast & Pine Needle
The Studio Series is a collection made with complex fragrance blends, each with their own story. The fragrances were developed slowly over time as inspiration struck, but were only released as a collection when we found these beautiful hand-blown vessels to house them in. The scent combined with light seen through the glass creates a beautiful sensual experience.
No.25 Pine Needle
Woody / Green / Spicy
Scent Notes:
Pine, Spearmint, Kale, Musk, Vanilla, Cardamom
Woody, ambery, and zingy smell of the old pine tree. Pine is here to stand by your side, giving you the warmth of this comfy season.
No.23 Tipsy Toast
Scent Notes:
Neroli, Juniper berries, Vanilla, Tonka, Nutmeg
Picture yourself sitting by the warm fire on a cold winter night, toasting to the holidays with a glass of your favorite spirit. The sweet aroma of orange and vanilla mingle with the spicy notes of nutmeg and ginger, creating a cozy and intoxicating scent.
Ingredient:
Vegetal wax
Coconut oil
Fine fragrance
Essential oil
1 wick
Net weight: 2 x 150g
Approximate burn time: 35 hours each