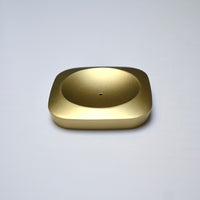 Incense holder & Aroma Incense Set No.42 Citronella
Exclusively available at BeCandle, the exquisite incense holder designed by the renowned designer, Michael Young. Crafted meticulously from anodized aluminum, this masterpiece embodies elegance and minimalism in its purest form. With its sleek lines and refined aesthetics, it effortlessly enhances your living space, emanating a sense of tranquility and pleasure.
This incense holder promises to elevate your home mentally and aesthetically, allowing you to indulge in a sensory journey of serenity and sophistication. Discover the epitome of refined luxury with this remarkable creation by Michael Young.
Edition of 100
Material: Anodised Aluminium
Dimension: 80mm X 80mm X 12mm
Nt wgt: 100g
Aroma Incense No.42 Citronella  

Citronella, Lemongrass, Sandalwood
Made with fine quality Citronella and lemongrass essential oil.
Scented Incense produced in collaboration with Okapi Studio. The finely blended scents diffuse into the indoor or outdoor spaces gently with the natural incense.
Net Wt: ~24g
Approx. burn time per pc: ~ 45mins