Artisan candle maker and creative lab BeCandle, in Sai Kung in Hong Kong's New Territories, is not just surviving Covid-19 – it's flourishing
Founder Xavier Tsang says its name was inspired by Bruce Lee's 'Be water, my friends' quote, as well as how candles change properties like water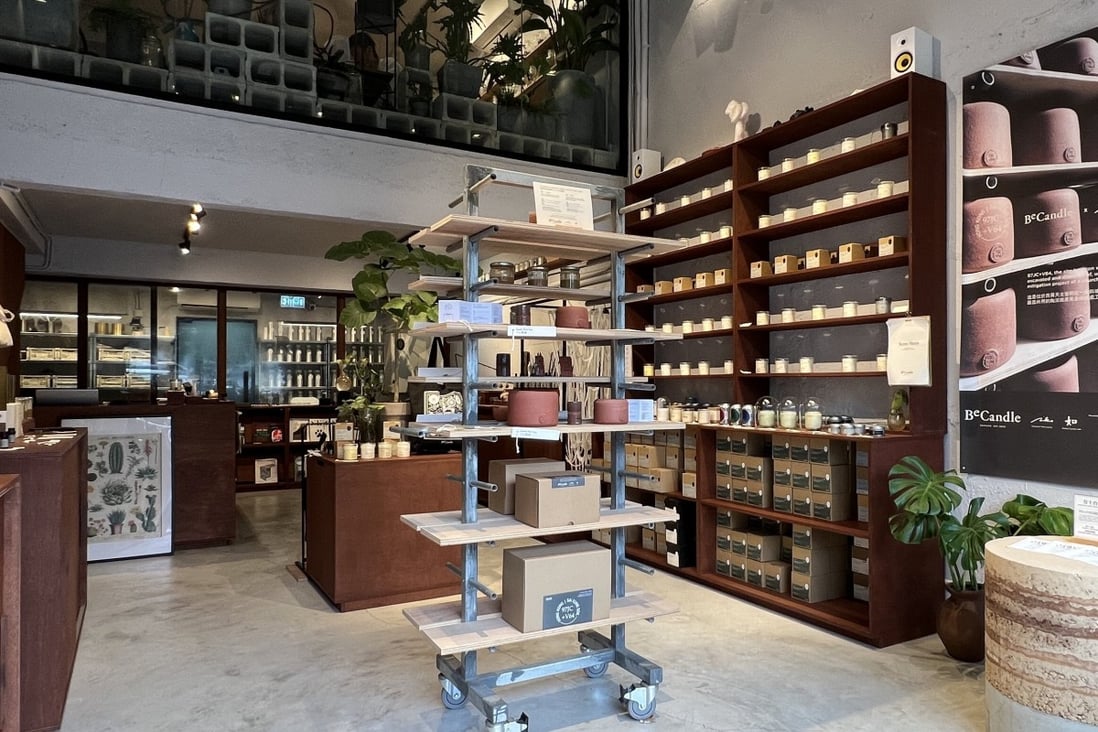 BeCandle, on Sai Kung's waterfront in Hong Kong's New Territories, is a candle retail shop and studio/workshop that is thriving despite the pandemic.
Many small businesses have floundered amid the coronavirus pandemic, so it's uplifting to learn that some are not just surviving but expanding.
Step forward fragrance product factory and creative lab BeCandle, set up by product designer Xavier Tsang in 2012.
Tsang and his team produce small-batch artisan candles, the scents for many of which have been developed by fragrance houses in Singapore and Switzerland.
The company recently moved the customer-focused aspects of its business – its retail and workshop spaces, and a recycling station known as the Refillery – out of its tiny original store in the old town in Sai Kung, in Hong Kong's New Territories, and into larger, more prominent premises on the town's waterfront.
The factory, where all the new candles are produced, remains at the old site.
"This ground-floor shop used to be a restaurant and I lived in the flat above it when I was a child," says Tsang. "My uncle also ran a grocery store next door. I have a lot of emotional attachment to the place so when I heard this shop was up for lease, I jumped at the chance."
The new premises have a wholesome and contemporary aesthetic, with whitewashed walls, industrial-looking concrete floors and bespoke wooden cabinetry and shelving.
Beyond the glass doors at the back is the Refillery, all stainless-steel counters, containers of organic vegetal wax and teapots filled with scented oil. This is where BeCandle artisans clean out and refill used candle vessels with the perfumed wax of the customer's choice around a lead-free cotton wick. It accepts receptacles from other brands as well as its own.
Tsang is particularly motivated to promote local crafts and always has several collaborations on the go. These currently include Botanic Union, a farm in Tai Po in the New Territories that supplied the many plants decorating the shop and upstairs studio (used at weekends for workshops).
Teaming up with carpenters from Start From Zero gave rise to the Fries wood diffuser – it looks like a box of chips – made from leftover pinewood, infused with fragranced castor oil.
The pot candles, each stamped with their provenance and a serial number, come in two sizes, and with a choice of two scents developed by perfumer Frank Voelkl.
"Our Land is the exploration of the place we call home and how we are responsible for it," explains Tsang. "Niko drew a map on the shop wall and marked places of importance on it – such as the shop, the soil site and the kiln – so customers can easily see where everything comes from.
"A circular block of dried, rammed earth is also a permanent fixture in the shop, honouring the soil project. It underscores the local connection and ties the shop and the Our Land candles to the soil's origin."
Although the shop seems complete, Tsang has a plethora of plans for it. He is hoping to host events on a small alfresco terrace on the second floor and wants to find a Hong Kong-based company that will produce the delicate glass jars most of his candles come in. (They are currently manufactured in China.)
He says: "All our team members live in Sai Kung and my goal is to have everything produced in the area – or at least in Hong Kong."